Luke 3: 1-18 Crossword Quiz
Click image to run the MS PowerPoint show.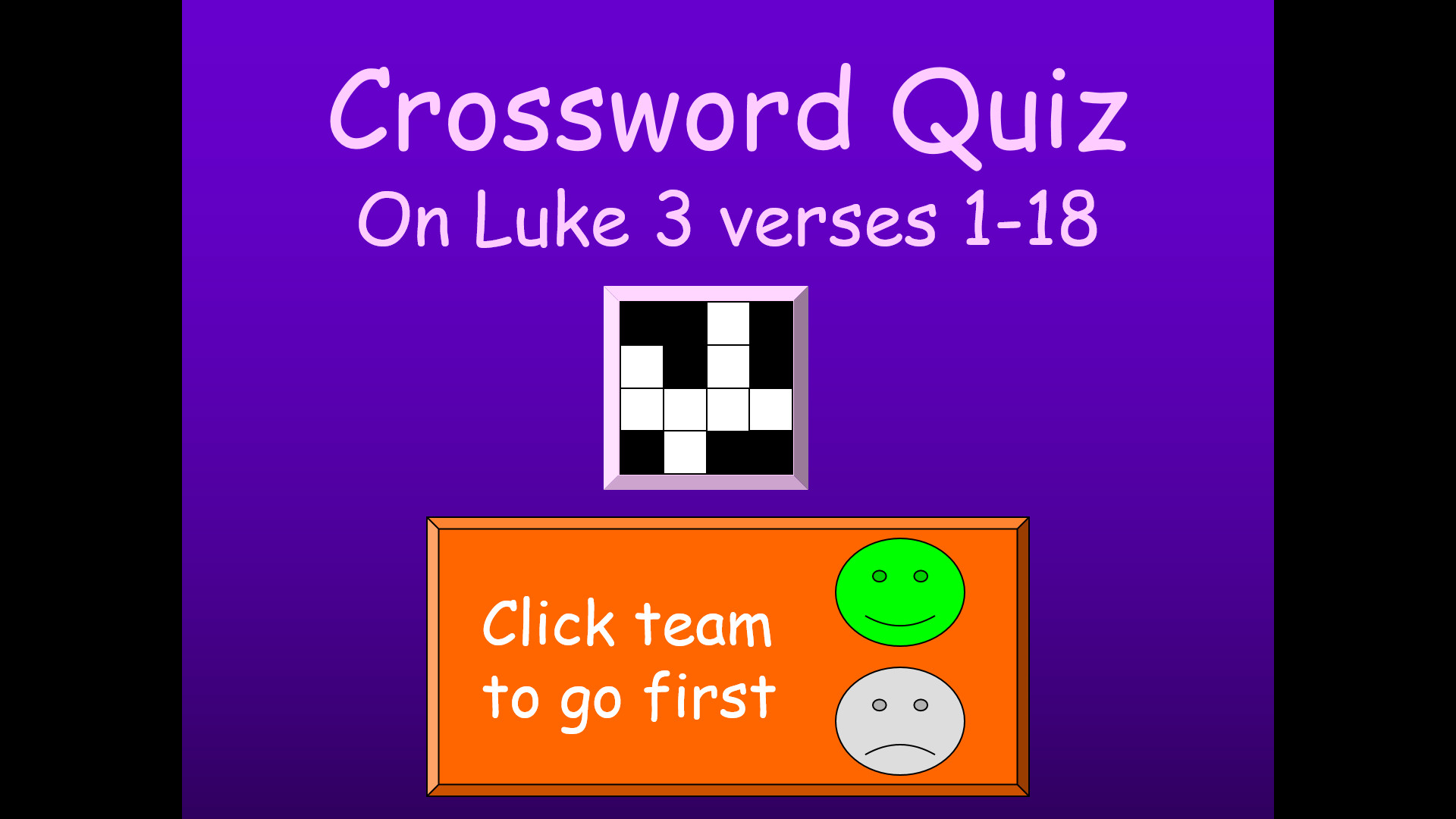 This Bible crossword quiz has been programmed using Microsoft Visual Basic for Applications in the context of a PowerPoint show. You will need Microsoft PowerPoint to be installed on your computer to run this game. Click the image on the left, and decide whether to open the file with PowerPoint directly, or whether to save the file to run with PowerPoint later. When the PowerPoint show commences a macro security alert will be displayed. Select the button to enable macro content, otherwise the game will not run.

This crossword quiz is based on the Bible passage Luke 3: 1-18. It was designed to be played in a church All-Age or Family Service, by two teams selected from the congregation, one older (the grey faces) and the other younger (the green faces). The clues for the grey faces are more difficult (and typically cryptic) than those for the green faces. The presenter interacts with the program to implement the choices of those playing, and particularly to record whether a clue has been solved correctly. The program keeps a score, based on the number of letters correctly inserted by each team.
Instructions
The following instructions assume that the PowerPoint show has started running, with macros enabled.
Click which team is to go first (green face or grey face).
The display shows the crossword grid, the current scores, and which team is next to play. That team chooses which word thay want to solve, and the presenter clicks this word (click a letter space that is unique to this word).
The selected word is highlighted. Changes can be made if the wrong word has been selected. When the team is content with the highlighted word, the presenter clicks the highlighted word again.
A clue for this word is then displayed. The team must attempt to solve this clue and suggest what the word is. When they have decided the presenter clicks either the "Right" or the "Wrong" button (the presenter needs to know the answers to do this).
If they were right the program inserts the word, otherwise it leaves it blank. Scores are updated, and the next team then takes a turn.
When the crossword is completed the program displays the scores and highlights the winning team.
This software is protected by UK copyright law. All rights are reserved, but it is licensed for download and use under Creative Commons Attribution-NonCommercial-NoDerivs 4.0 (CC BY-NC-ND 4.0).