Allelu Canon Video
Click image to run the YouTube video.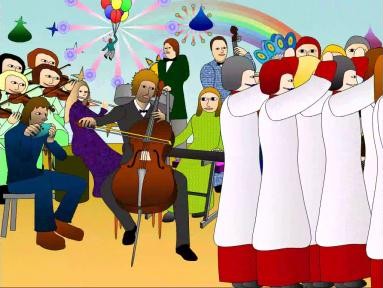 This video plays a music composition based loosely on Pachelbel's Canon, with accompanying visuals. The key is changed (to F) and the tempo is increased. Instrumental variations are introduced. The video illustrates how a simple chord sequence can be used as a basis for extempore worship.

The video depicts how a local church of believing Christians can be, when all members function as God intends. Each one has a contribution to make, and is free to express that contribution according to his or her personality and gifting. And yet the whole performance is woven together in harmony. Behind the orchestra you can see colourful shapes and objects in the sky, animated in time with the music. This depicts how the service of each Christian on earth reflects and reveals what is originated in heaven. Jesus prayed that God's will would be fulfilled on earth as it is in heaven. The Bible tells us that each Christian carries out good works prepared beforehand by our heavenly Father. The Holy Spirit, sent by our Father from heaven, inspires and orchestrates all that we do in our service for Christ.

For those who are interested in such things, the instrumentals were produced using Cakewalk Sonar X1 Studio and a Roland Mobile Studio Canvas SD-50. The animated visuals were created using Microsoft PowerPoint 2003, and the video was captured and mastered using Microsoft Expression Encoder 4.
Would you prefer a music-only version? Click here to listen to or download an mp3 file.
This video and any accompanying music is protected by UK copyright law. All rights are reserved, but you may freely download it for personal viewing and listening.
A licence for public performance or broadcasting may be obtained from Phonographic Performance Ltd quoting ISRC number GBNE41200001 (for the audio recording) or GBNE41200002 (for the video recording).
See all of Steve's videos at StephenPTownsend on YouTube.